Founded in 1969, ArtsFund supports a resilient and robust arts sector that contributes to the health and well-being of our communities. More than $100 million has been distributed to more than 650 ArtsFund arts organization grantees since our founding.
ARTSFUND'S MISSION
ArtsFund supports the arts through leadership, advocacy, and grantmaking in order to build a healthy, equitable, and creative Washington.
ARTSFUND'S VALUES
• We believe that arts and culture are a tool for social change.
• We believe in arts and culture as an economic driver that creates jobs and revitalizes communities through its interconnectedness with the entire Washington economy.
• We believe in promoting equity by centering those most impacted by systemic oppression, including Black, Indigenous, and People of Color (BIPOC), LGBTQ+, and people with disabilities.
• We believe that communities benefit when youth and families are engaged in the arts.
• We believe that strong data, both quantitative and qualitative, can drive meaningful advocacy and change narratives.
• We believe that the arts bring people together with different experiences and that convening is essential for healthy communities.
STRATEGIC FRAMEWORK
In fall 2020, the ArtsFund Board of Trustees approved a new Theory of Change.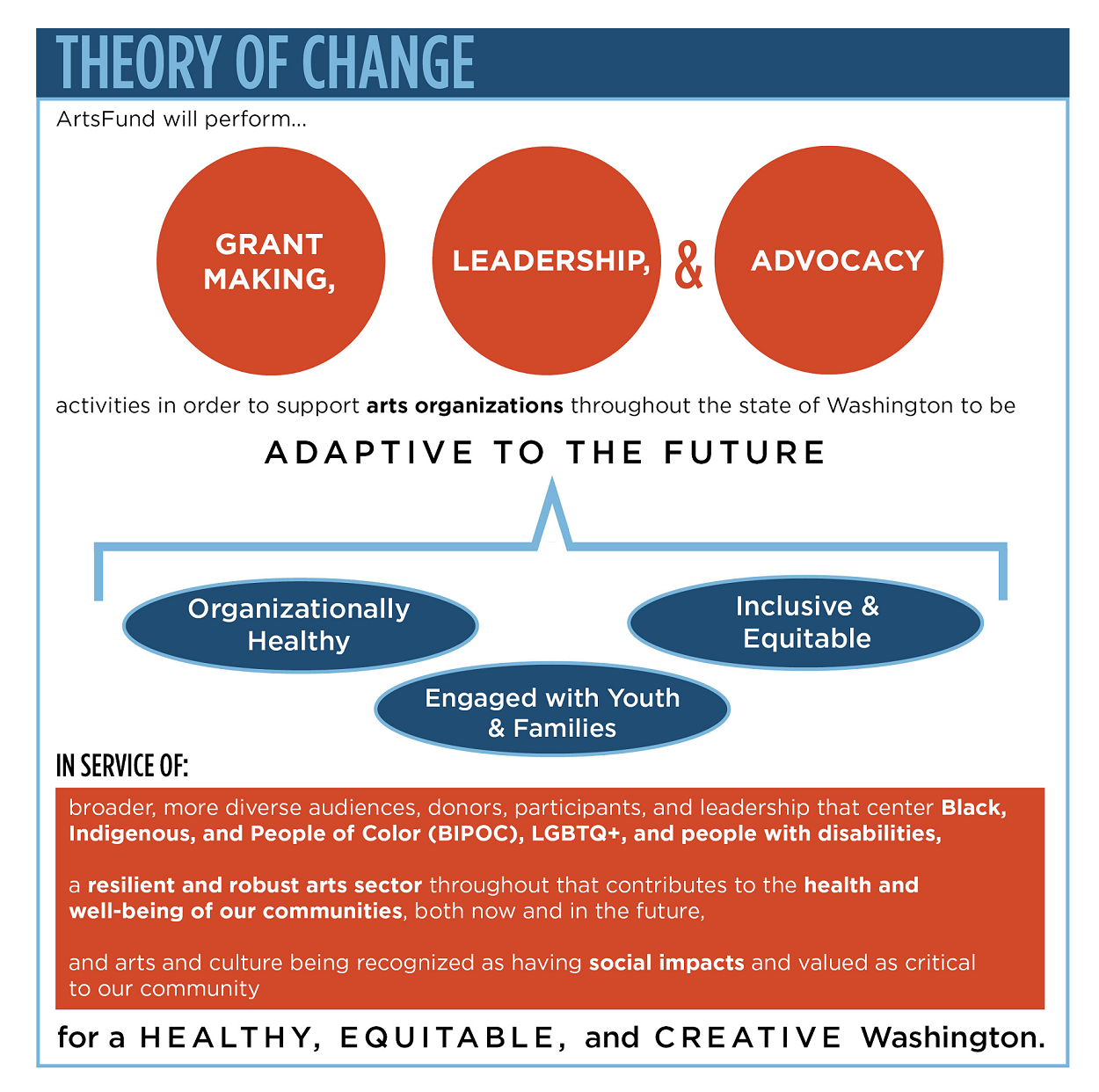 GRANT ALLOCATIONS
Since its founding in 1969, ArtsFund has endeavored to build a healthy, equitable, and creative Washington by raising funds from individuals and businesses to support the region's nonprofit arts sector through grants and other organizational assistance. Through its widely respected allocations process, ArtsFund has distributed more than $100 million in grants to more than 650 large and small arts groups that span a variety of disciplines throughout King and Pierce counties. In 2022, thanks to our generous corporate and individual donors, ArtsFund awarded over $2.1 million in grants to arts and cultural nonprofits throughout the region. These grants provide general operating support—typically the most difficult yet crucial funding for arts groups to access.
Programs and Initiatives
ArtsFund is a respected voice and central advocate for the arts on the local, regional, state and national levels, and serves as the fiscal agent for several sector wide initiatives. ArtsFund is committed to helping develop the next generation of community and civic leaders and offers a nonprofit board leadership training course as well as ongoing convenings for the cultural sector. ArtsFund's cash grants, capacity building, and other services make arts groups stronger so they can serve this region and make it a great place to live, work, raise a family and run a business.
Learn More
ArtsFund is a 501 (c)3 nonprofit, federal tax ID# 91-0839644
ARTSFUND 2021 ANNUAL REPORT