Annual Cultural Partners Survey & Summit Recap
This summer ArtsFund conducted a survey of its 120 Cultural Partners. This annual survey serves to answer some key questions about the Cultural Partners Network: What is the overall range and scope of the groups that ArtsFund serves? What are their greatest needs and challenges? How can ArtsFund better serve the Cultural Partners Network? We analyze the responses and include aggregate findings in the report for the purpose of deepening our community's understanding of the shifting cultural landscape in which we operate.
This overview of our sector empowers our Cultural Partners to better advocate around issues the arts and cultural community faces, to amplify the powerful work that is happening in the Central Puget Sound region, and to benchmark their own organizations against peer organizations. This resource also serves to identify needs and opportunities to strengthen the sector for funders and other members of our cultural ecosystem.
Based on responses from 91 organizations, the report covers the most common challenges and needs of Puget Sound arts and cultural nonprofits, as well as breakdowns of organization size, scope, and income sources.
INCOME SOURCES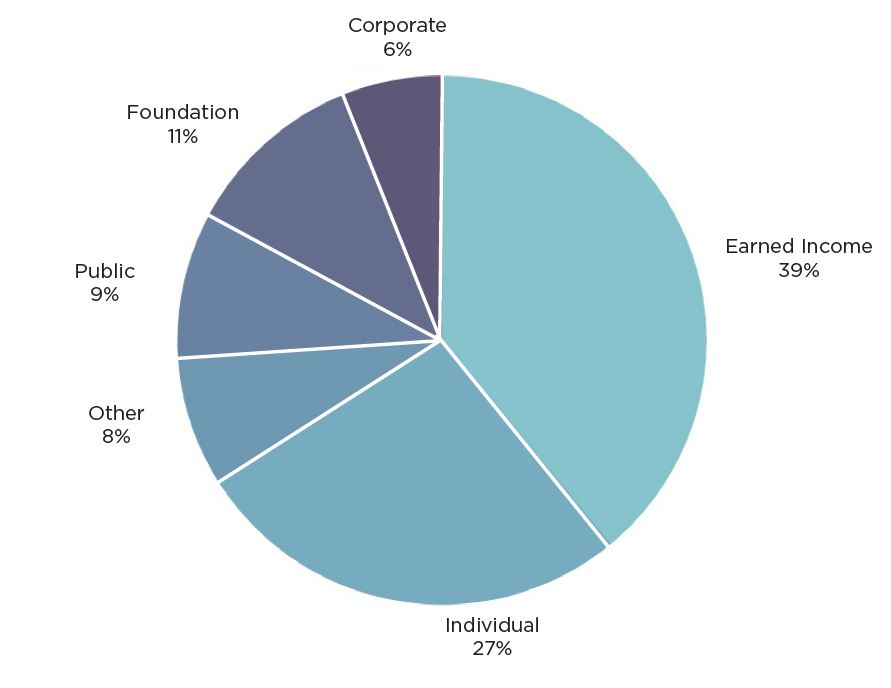 BUDGET TIER BREAKDOWN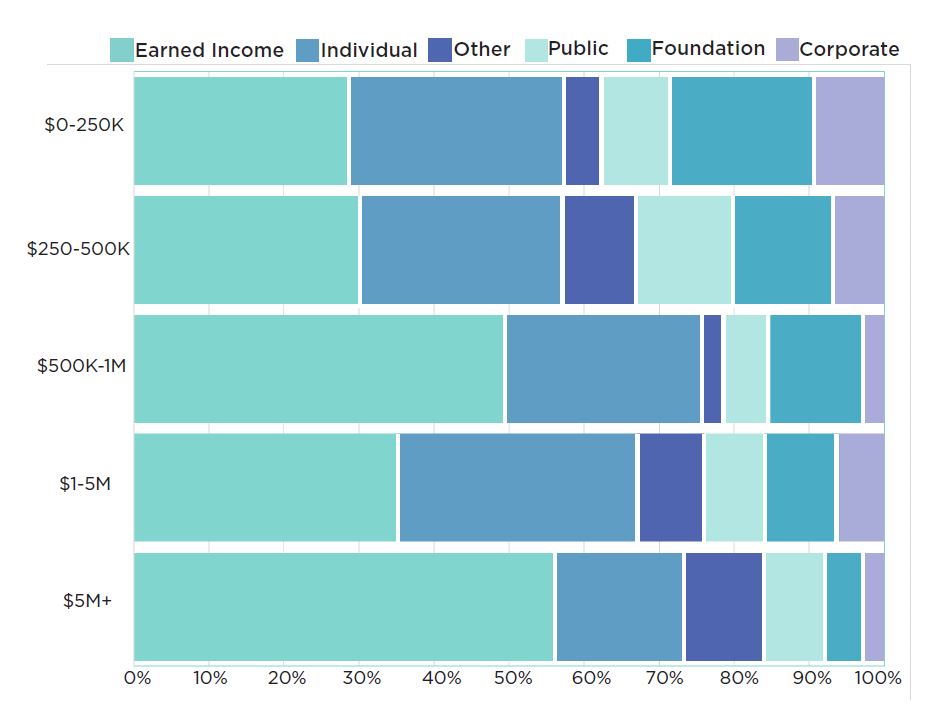 The complete report (released October 2019) can be read and downloaded here.
In follow up to the survey, ArtsFund hosted its first ever Cultural Partners Summit this fall at Hugo House. The event brought together members of the Cultural Partners Network for connection-building with colleagues in the arts and culture sector and peer learning around creative solutions to common challenges that arts and cultural nonprofits face.
Tim Lennon, Executive Director of LANGSTON, kicked off the day by inviting attendees to "open yourself up to the possibility that someone in this room has answers that you didn't even know you were looking for, and that person might not be who you'd expect."
Attendees heard from Robert Babs and Kelly Clingan of Seattle JazzED with "JazzED Responds to Community Needs," Catherine Nueva España of Velocity Dance Center on "Stakeholder Engagement During Leadership Transitions," Vivian Hua of Northwest Film Forum on "Sharing Cultural Space," Kristen Ramer Liang of Pacific Northwest Ballet on "Growing Young Audiences at PNB," and Tree Swenson of Hugo House on "Leaping into a Capital Campaign."
After the short presentations, the group split into breakout sessions to discuss the case studies presented, and share their own experiences. Attendees and presenters got to know colleagues from other organizations that are working towards similar solutions, expand their network, and share resources with the group.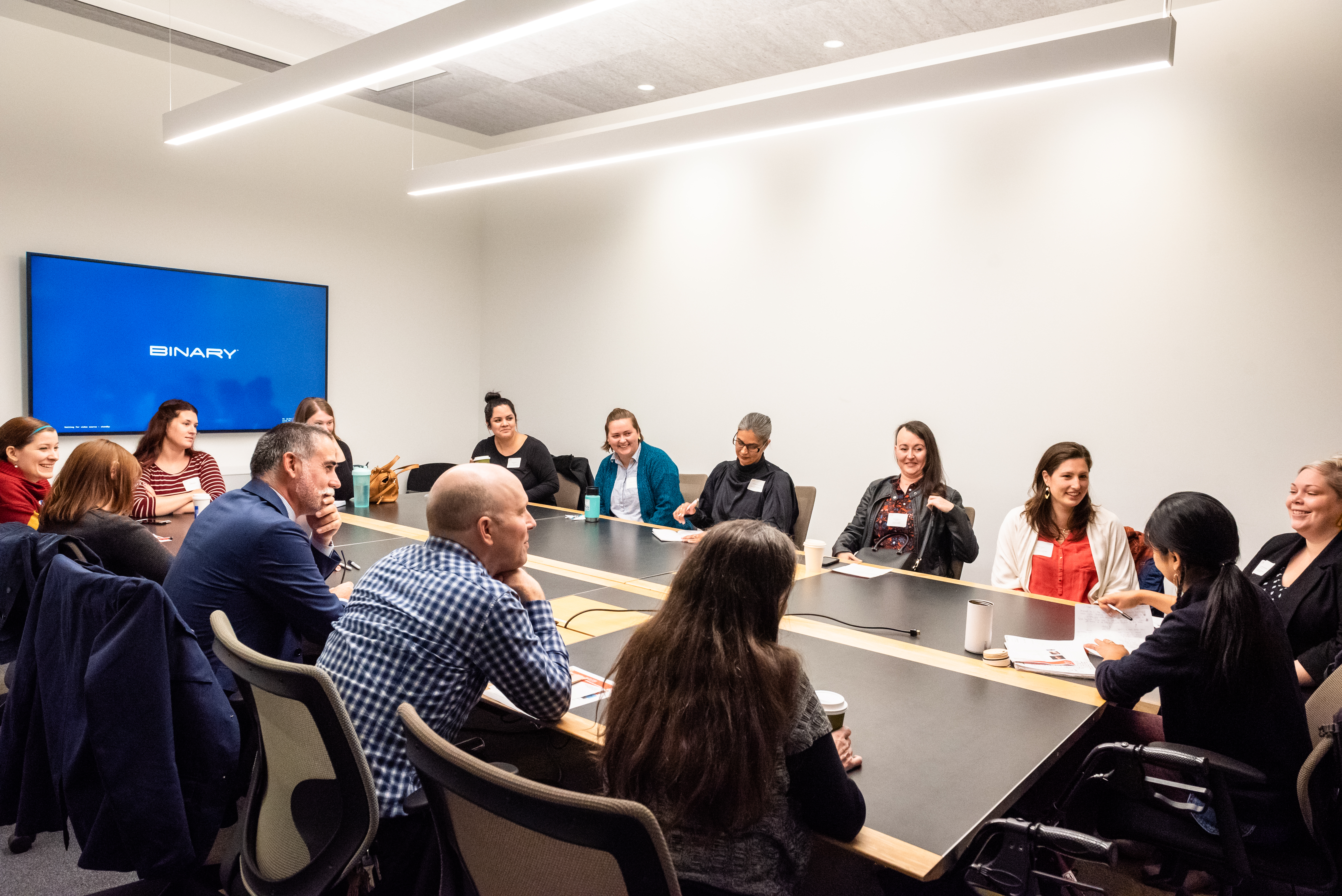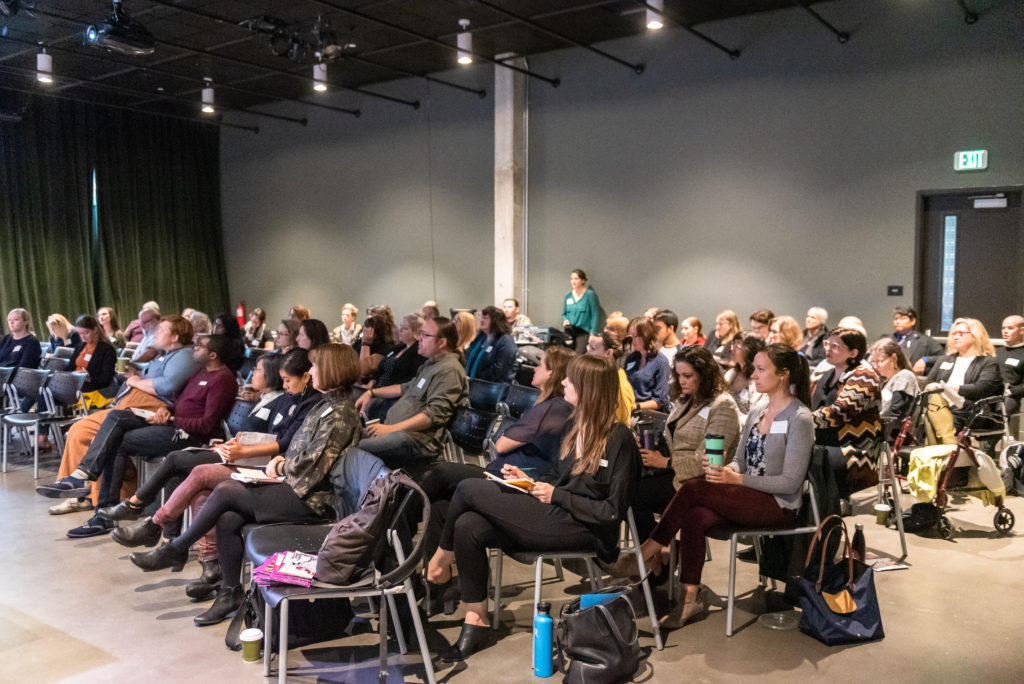 Left: Vivian Hua's breakout session, "Sharing Cultural Space."
To learn more about the Summit, visit our complete recap. To learn more about the Cultural Partners Network, visit artsfund.org/CulturalPartners.
All photos by Robert Wade Photography. To view more photos of the Summit, visit our Facebook page.