It's a wrap! How'd we do?
What do nearly 1000 plates of salmon, scores of volunteers, hundreds of companies, and thousands of individuals have in common? All were key factors in ArtsFund's recent fundraising campaign!
On May 31, ArtsFund's Campaign '18 came to a close. The campaign raised over $3.1 Million in support of arts and culture in our region, and we thank all who contributed for your generous support.
Funds from our annual campaign support programs and services reaching more than 120 arts and cultural organizations and communities, and provide grants to approximately 70 to nonprofit arts groups throughout the Central Puget Sound region. To date, ArtsFund has awarded $79 Million to organizations in King and Pierce Counties, and we look forward to announcing this year's grants in our August newsletter.
This year, our campaign focus was how Arts Build Communities. Throughout the year, we celebrated how our local arts organizations build a vibrant economy, enhance educational opportunities and attract engaged and compassionate citizens – all markers of a healthy community.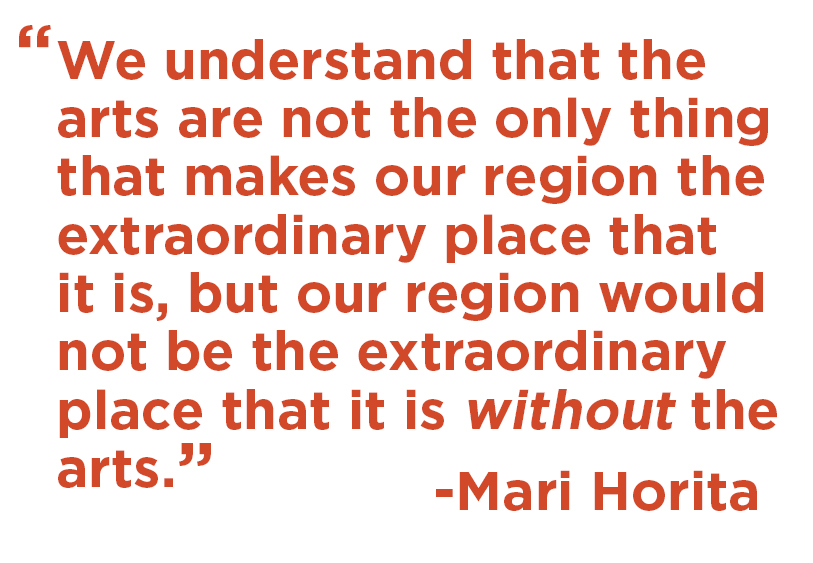 Arts Build Community was also the theme of this year's Celebration of the Arts Luncheon, held early in May. National Endowment for the Arts Chairman Chu, our luncheon keynote, remarked: "The arts help us see what's exceptional about who we are and where we live…They give us the tools to discover and celebrate our assets, and to transform our challenges into advantages."
ArtsFund President & CEO Mari Horita added: "We understand that the arts are not the only thing that makes our region the extraordinary place that it is, but our region would not be the extraordinary place that it is without the arts."
The Luncheon raised nearly $400,000 towards our goal, and we are grateful to our luncheon sponsors, attendees and donors. To the nearly 300 donors making a first-time gift or returning to ArtsFund after a break – welcome! Stay tuned for more information about donor benefits and additional ways to engage with ArtsFund throughout the year. For a complete luncheon wrap, and links to the sponsor list, keynote speech, Mari's remarks, photos, and performances, click here.
On May 10th, The Seattle Times Editorial Board offered their endorsement of ArtsFund and our campaign:
"The whole community is enriched by the work of ArtsFund, from the next generation of arts lovers who are inspired by a trip to the theater to the community arts program that gets the help it needs to put on an interesting new exhibit . . . give what you can to make your community a richer, more vibrant place." (Seattle Times Editorial, May 10, 2018)
We believe it takes community to build community. Thanks to all who participated in ArtsFund's Campaign '18. Whether you're a long-term donor who's been with us for nearly 50 years, or whether this is your first year supporting ArtsFund, we can't do what we do without you.
To jumpstart Campaign 2019 with a gift, click here.