On May 17, 2019, ArtsFund partnered with Town Hall Seattle for a public presentation and panel discussion of the Social Impact of the Arts Study, Arts & Action to Better Our Community. This special panel discussion and civic dialogue brought together arts and community leaders to discuss their perspectives on how the arts can work in tandem with other interventions to tackle the challenges our region faces.
Arts & Action was one of the first events held in the newly renovated Town Hall Seattle Space. Town Hall Seattle Executive Director Wier Harman opened the evening with, "Thank you for coming to our new home!" He then shared his appreciation for the audience's participation in two "long awaited events, first the public announcement of ArtsFund's first ever Social Impact Study in King County, and . . . [Town Hall receiving its] building wide certificate of occupancy."
Sung Yang, ArtsFund trustee, kicked off our event welcoming the "hardest of the hardcore" arts supporters. He shared ArtsFund's work throughout the region, and introduced King County Executive Dow Constantine. Executive Constantine's remarks set the tone for the night: "The arts add so much to our lives. They bring us together, they entertain us, they challenge us, they inspire us, but more than that, as the Executive of this county of more than 2.25 million people, I see how the arts advance all the work we do. In health, in education, in the development of young people and the cohesion of our communities, in bringing us together and helping reflect on who we are and who we want to be. And, there is a role for everyone."
Framing the panel conversation, Sarah Sidman, ArtsFund Vice President of Strategic Initiatives and Communications, shared some of the findings of the report, which are summarized on our website here.
To further illuminate the work many organizations are doing, Sidman welcomed one of the ten case study organizations to the stage. Path with Art Executive Director Holly Jacobson shared a video including interviews with some of their student artists. Jacobson went on to emphasize the impact the arts have in the lives of those who are struggling, stating,"People do need to feel joy, and like their lives have meaning. Every single one of us. And art does that. It creates joy and provides meaning."
We were honored to host a panel of local leaders including Randy Engstrom, Seattle Office of Arts & Culture Director; James Miles, Arts Corps Executive Director; Vivian Phillips, Arts Advocate and Leader; and Jay Vogelsang, Swedish Medical Center Foundation President and Chief Development Officer; and moderator, Marcie Sillman, KUOW Arts & Culture reporter. Topics spanned from healthcare, affordability, education, advocacy, and more. Kicking off the conversation, Sillman noted "We've seen a lot about data, and I have to say, I've done this work for a long time and when this [Social Impact of the Arts] report came out and I saw it, I went 'well, yeah!' It didn't surprise me in the slightest." However, those positive outcomes linked to the arts are not as clear to everyone. Sillman began the discussion by asking the panelists how the social impact study provides necessary data and stories to establish the arts and culture as being essential for our community.
Asking panelists to consider the social impact these leaders see in their fields Engstrom reflected "I think the opportunity that I've gotten to have and to experience over the last several years is that arts and culture is now actually a vehicle for the rest of the public sector to better imagine how it can do its work."
Vivian Phillips explored how the arts are often considered separate and non-essential and how critical it is to become a cornerstone of communities, stating, "We [the arts and cultural sector] are on this road to try to reintegrate into the way in which communities work . . . . Would we be talking about the benefits of law enforcement? Would we be talking about the benefits of medic one, or public works . . . ? I've always felt . . . [arts and culture] spark joy. Who doesn't want to be joyful and be productive in your joy? It is essential."

Speaking to the health and wellness benefits of the arts, Jay Vogelsang remarked that at some point we will all need care, and that Swedish has focused on integrating arts into the environment with patients in mind recognizing that "the healing power that we found in art coincides with the scientific healing power that we've discovered and developed over the last 50-60 years in this country."
James Miles spoke to education, sharing some startling statistics and linking art to positive outcomes. "The arts allow for a way for young people to engage in curriculum. And, when you take it out of the schools, you see less engagement. Let's look at some statistics: Washington state is 46th out of 50 in arts funding, we're number 2 in absenteeism, so if you take the arts out of schools—what happens? Kids don't go to school."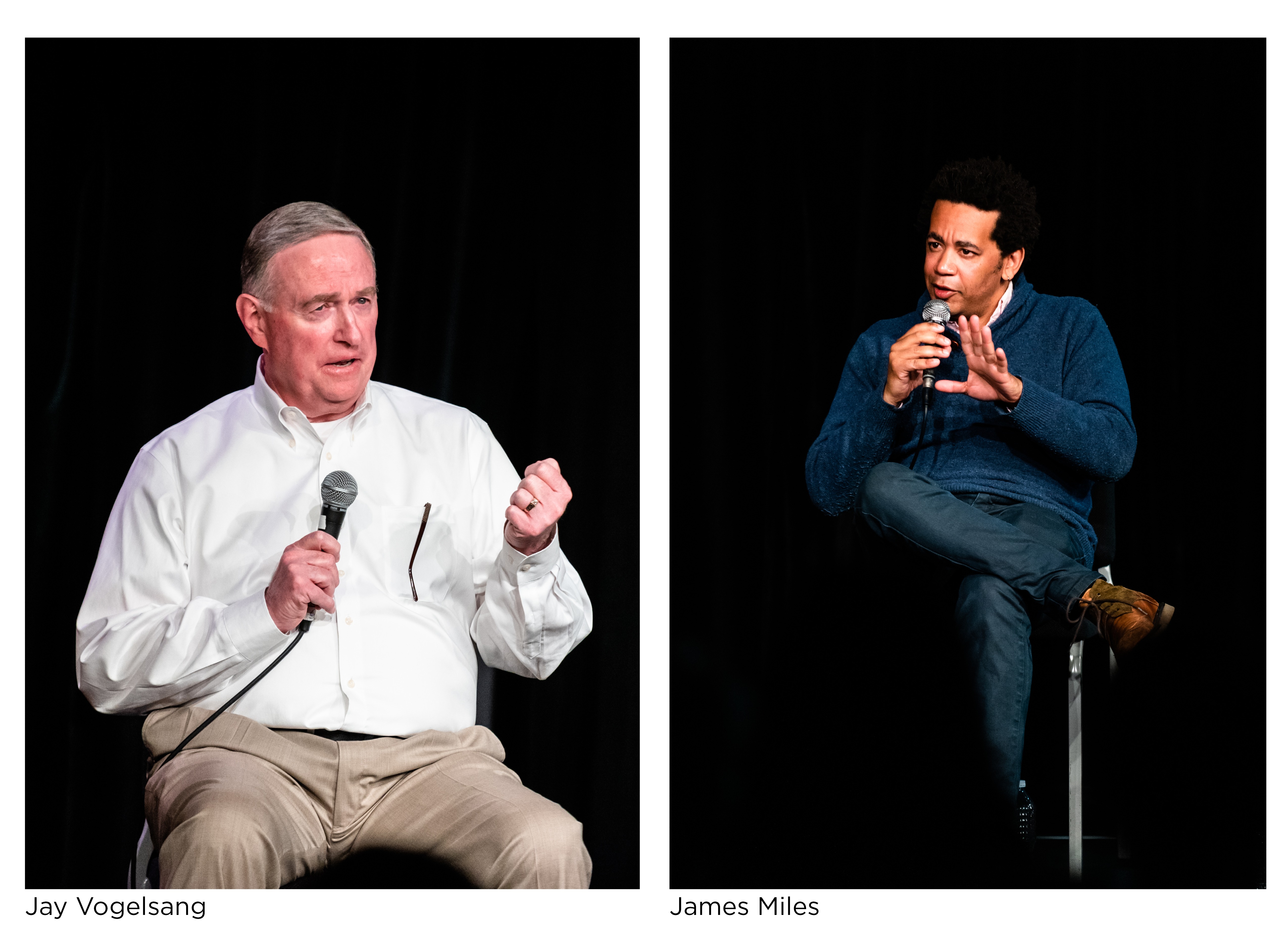 Sillman wrapped up the night asking panelists how we can all take action to make sure that arts and culture are included in finding solutions to these significant challenges. Engstrom suggested that while he may not have the answers, we have an abundance of talent and resources in King County. Engstrom stated that he is "confident in the people in this room and the people that live in this city, and I think that we have the capacity to figure it out."
Missed the event? Check it out here:
Thanks to Town Hall Seattle for their partnership and support in presenting this event.
Thanks to all of our thoughtful and dedicated participants for making this event so provoking.
Thanks to Robert Wade Photography for capturing the evening.
Thanks to our sponsors:

Livestream provided by KING 5