Creativity Builds Community through Amazon's Expressions Program
By Tim Detweiler
Expressions Program Manager, Amazon
Published November 17, 2021
It is amazing to see the creative process and see that lightbulb go on when someone makes something with their hands for the first time since grade school. This is what happens all the time in the Expressions Program at Amazon.
Brightening up the Workday
Expressions is an art program for Amazon employees that includes workshops taught by teaching artists, drop-in art activities, open studio time for projects of all sorts, and an artist in residence program where local artists can mingle with employees in a casual open studio atmosphere. Large text leading the way into the Expressions Lab reads, "Expressions is a collaborative effort to promote and showcase creativ​ity, community, and diversity of thought at Amazon." It is true. The program really brings people together and there is laughter and shared encouragement in each workshop, especially during a Bob Ross painting session.
There are many offerings within the Amazon Expressions Lab. Drawing, painting and collage are among a few of the activities that help employees get out of their heads and into their hands.
A creative break provides time to decompress and feel refreshed. When folks work in a communal space, even on separate projects, the conversations shift.
Gail Grinnell, an eminent local installation artist, said it best: "When I work with other people on large projects in the studio, we have conversations that we would never have otherwise. More personal and less generic. There is something that working with your hands does to open folks up and make them curious about each other."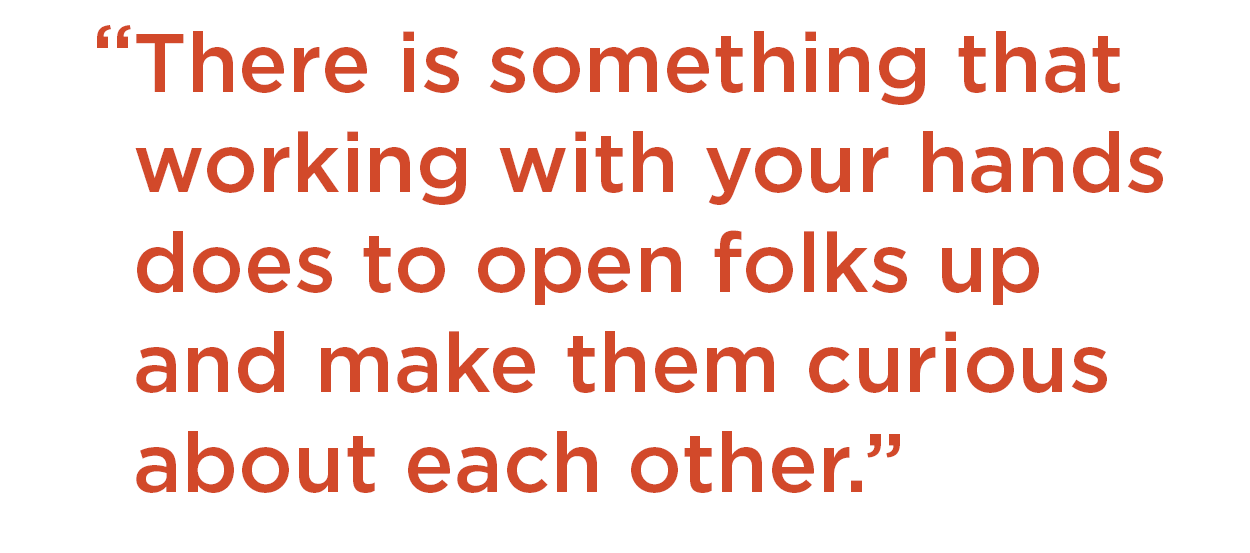 Real World Benefits
As many studies show, art and artmaking have real world benefits for employees. Americans for the Arts, an organization that provides a deep dive into arts and culture, shared a few thoughts about why art makes a difference in business.
89% of executives agree that creativity is a top skill for today's workforce.
"Whether it is sparking innovation among employees, showing gratitude for their hard work, or strengthening their skills, arts and business can work together to inspire and engage employees, and help recruit and retain talent.
69% of companies that received recognition for being a 'best place to work' reported the company fosters creativity.
"Art and business can work together to create a competitive edge for each other. Leveraging the arts can expand market share and convey a company's unique values. The arts can also create livelier and healthier workspaces, while artists and arts organizations gain meaningful work."
Embracing Creativity as a Corporate Asset
Amazon has really leaned into the idea that art builds community and spurs innovation, which is a key component of Amazon's success as a business. One of Amazon's principles is, Invent and Simplify: Amazon prides itself on innovation, so the company expects its leaders to get creative when finding solutions. Leaders should think up new ideas and try new methods to see what gets results.
To help support ongoing creativity and innovation in our local community, Amazon contributed $50,000 to ArtsFund's Campaign 2022 in support of diverse, small, and emerging art groups in our region. In the past, Amazon has also supported ArtsFund's Cultural Partners Network of 130+ diverse arts and cultural organizations and provided funding for the Multicultural Arts Project.
During the last year and a half of working from home, the staff of the Amazon Expressions Program worked with community partners Pratt Fine Arts Center and Gage Academy of Art to offer art workshops online. This expanded the program's reach from beyond the Seattle campus, to employees from around the country. During the past year, two new Amazon Expressions Programs have been started in Bellevue, Washington and Nashville, Tennessee. When many opportunities were put on hold for artists, the Amazon Expressions Artist in Residence program was able to continue to provide space, time, and money for artists to create new work. The Artist in Residence program will continue to grow even more next year!
***
Tim Detweiler has been Expressions Program Manager at Amazon for the past four and half years. His work centers on deepening connections between Amazonians and the Northwest arts community through community partnerships and by providing opportunities for Amazon employees to engage with local artists, galleries, museums, and cultural events.
Tim has held a leadership position in the Pacific Northwest arts community for over 25 years. Previous roles have included Director of MadArt, Museum of Northwest Art, and the James and Janie Washington Foundation. He held curatorial positions at both the Museum of Flight and the Washington State History Museum. He taught Exhibit Design for a decade in the University of Washington Museum Studies Certificate Program. Most recently, he became a co-owner of Gallery Mack near the Pike Place Market.