By Beth McCaw
President & CEO, Washington Women's Foundation
Published December 18, 2020
Supporters of organizations like Washington Women's Foundation and ArtsFund have a unique opportunity to help advance equity.
It's no surprise–inequality continues to grow in our country.
And the philanthropic sector is not immune. As the leader of Washington Women's Foundation and as an ArtsFund supporter and volunteer, this is a problem I think about regularly. WA Women's Foundation is one of the oldest women's collective grantmaking organizations in the country. Approximately 350 women philanthropists are members of the Foundation and together, we have made grants totaling more than $19 million.
After more than 20 years of making grants, we were frustrated that we only saw inequality continuing to grow—not just economic inequality but disparities in education and environmental impacts, disparities in access to health care and housing, barriers to creative expression, political participation, and civic engagement. Since then, the global health pandemic and the current racial reckoning in our country have made these disparities even more obvious and the call to philanthropy to respond ever more urgent.
When WA Women's Foundation implemented a focus on race and gender identity equity as part of our 2019 grantmaking process, many organizations, especially arts and cultural organizations, applied for funding to support Diversity, Equity, and Inclusion (DEI) initiatives within their organizations. This internal, institutional work, while necessary and important, did not meet the specific criteria for our 2019 Pooled Fund grants. Recognizing the need and the apparent gap in available funding, we launched another grantmaking project in Fall 2019 to fund DEI initiatives within arts organizations to strengthen their internal capacity and help develop arts leaders committed to DEI within the sector. Because this was a new initiative for WA Women's Foundation, we sought the advice of an expert funder in the field, ArtsFund.
This work made clear that there is a significant role not only for those of us who lead philanthropic organizations, but also for each of us, as individual donors and community members, to play in advancing equity.
Democratizing giving with collective grantmaking
As individuals, we have many choices to make. Which causes should we support and at what level? Should we make a larger gift to one organization or smaller gifts to many? How do we stay in communication with the organizations we choose to support? With over 20,000 tax-exempt nonprofits in Washington state, these choices are multiplied. For those of us who care about advancing equity in our community and maximizing the impact of our giving, we may want to support many diverse organizations without the time, resources, or capacity to make so many choices. This is where collective grantmaking organizations, such as WA Women's Foundation and ArtsFund, hold unique power.
We know that it will take a collective response and large-scale collective grantmaking to respond to the impacts of the global health crisis and spur positive change. It is going to take all of us, working, investing, and advocating together. Collective grantmakers provide an effective means to do that.
Leveraging art as a tool for positive social change
Moreover, when it comes to advancing equity through philanthropy, arts organizations hold many advantages. When WA Women's Foundation expanded to fund DEI initiatives at arts organizations, we leaned on ArtsFund's Social Impact of the Arts Study which underscores the power of arts to alter behavior, change public perception, and advance equity. According to the study's findings, arts are a viable and proven – yet often underutilized and unacknowledged – strategy to positively transform and benefit our communities.
In practice, I've learned from my involvement with ArtsFund and from a number of organizations to which WA Women's Foundation has made grants in the past – such as Arts Corps, Delridge Neighborhood Development Association, Path with Art, Salish School of Spokane, Spark Central, and Seattle Arts & Lectures – that arts and cultural organizations have the ability to improve social cohesion, health, and educational outcomes. In the work of organizations like these, we see today that the arts are a critical part of the community response to the pandemic and its economic and educational impacts. Even when we are socially distanced, fighting to preserve the health and safety of our communities, while at the same time trying to meet the educational needs of all children, ArtsFund and WA Women's Foundation are continuing to lean into what we have always believed – the power of collective action and the power of art.
Arts organizations and artists are already telling the stories of 2020 and are driving and shaping conversations about race and social justice in communities across the United States. Especially in times like these, philanthropy must fund the diverse voices of art and must ensure that arts and cultural organizations can survive the devastating economic impacts of this pandemic. Organizations like WA Women's Foundation and ArtsFund are making important advancements toward greater equity, but we all have much more to do. We invite you to join us in this work.
***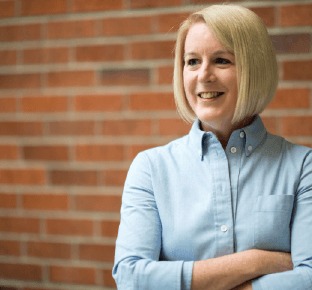 Beth McCaw (she/her) has been President & CEO of Washington Women's Foundation since 2014 and a supporter of ArtsFund since 2002. She also serves as a faculty member of ArtsFund's Board Leadership Training program.
She currently chairs the Boards of Directors of YWCA USA and Northwest Wine Benefit Foundation (dba Auction of Washington Wines). Beth has served on a number of other Boards, including YWCA of Seattle-King County-Snohomish County and Overlake Medical Center. She earned a Masters in Not-for-Profit Leadership from Seattle University, a J.D. from University of Georgia School of Law and a B.A. with honors from Davidson College. Beth is a part of the WA Women's Foundation transformation because bold, collective investments are required to solve complex community issues.
***
Photo credit: Header image courtesy of Arts Corps, photo by Angela Brown.