By Michael Greer, ArtsFund President & CEO
Published June 16, 2021
Public sector support was key to seeing our sector through the worst of this pandemic, and it will be crucial in making sure that arts and culture is a part of the wider recovery.
Throughout the pandemic, ArtsFund collected data from across the sector to highlight the effects of COVID on our industry and identify organizations' needs for reopening. At the height of the pandemic, we saw well over 70% of respondents to our surveys say that they had either laid off or furloughed employees. Earned income budgets for 2020 were 65% less than pre-pandemic numbers. And personnel expenses are budgeted to be 30% lower for 2021.
These are devastating numbers for any industry, and particularly difficult for an industry that relies heavily on gig and contract workers, whose employment can be irregular during the best of times. But even with these figures, we did not see a flood of permanent closures. Why?
Private philanthropy has been a key driver in supporting our cultural organizations and our surveys showed that contributed income was up 23% from prior years, but in my conversations with leaders in the industry, the Payment Protection Program (PPP) was the key element to preventing a full collapse of the sector. The first round of PPP loans saw nearly $5 billion go directly to arts, entertainment, and recreation. As evidenced in the data we collected, this was not nearly enough to prevent substantial jobs losses, but it was enough to give organizations time to breath, strategize, and prepare for the long haul.
As an arts leader told me back in January, "We have learned how to be closed, but we have no idea how to reopen." Once vaccinations became available, and it was clear that organizations needed to start planning for reopening, the reality of those costs became clear as well. Having gone through a year of little to no earned revenue, exhausted reserves, and a skeletal work force, arts and cultural organizations wondered how they would be able to rebuild the infrastructure necessary to reopen. Partially in response, a second round of PPP, in combination with the $16 billion being distributed through the Shuttered Venue Operators Grant (SVOG) program, gave organizations hope that they might have what they need in order to bring employees back and begin to reimagine how they engage with their communities.
And as state-and county-level leadership saw the value of supporting arts and culture as a part of the recovery efforts, programs began to emerge that supported this sector and recognized how it will be critical to community recovery by activating spaces, providing jobs, and bringing hope. Here in Washington State, Governor Jay Inslee has dedicated nearly $27 million of American Rescue Plan Act (ARPA) recovery funds to arts and culture; the Department of Commerce in partnership with ArtsFund will soon be distributing over $10 million in grant relief to the sector; and King County Executive Dow Constantine and the King County Council recently budgeted and passed $30 million in recovery specifically for arts and culture as part of a larger King County relief package.
These programs have seen their fair share of issues, including difficulty in roll-out, inequitable access, and underfunding, but the point is that public officials have recognized that funding the arts is essential and that our communities cannot afford a collapse of the sector. While these numbers seem large, they have been just enough to keep everyone's head above water and if we want to thrive, we need to acknowledge the work our public sector has done — and encourage them to do more. The City of Seattle will have the opportunity to support the arts in its upcoming $244 million relief package, and we should encourage those councilmembers, and all our municipal decision-making bodies across the country, to designate specific funding for the arts and culture community in their recovery plans.
Throughout this pandemic, we have seen that public funding of the arts works. It provides a baseline of support that allows organizations to bring employment, economic activity, and creativity into our communities. COVID has highlighted the fact that our elected officials acknowledge the value of our sector during a crisis, and now it is up to us to make sure they continue to acknowledge that value as we move forward into a new world of opportunities.
We are all facing the complexities of a "hybrid" future that will redefine the boundaries between work, home, and leisure. When we entered this pandemic more than 12 months ago, I argued that art is a positive outlet for humanity when we are facing unprecedented change. As we continue to shift our way of life, there will undoubtedly be more change and more need for those positive outlets. We have seen the way that our municipal, county, state, and federal governments can be effective tools in supporting these institutions during a crisis and I encourage them to continue that support once the crisis is over. We all need to constantly remind our officials to fund the arts — now, as we recover, and in perpetuity — as part of what binds our communities, during crisis and beyond.
*If you are in Washington State and would like to stay up to date on opportunities to advocate for public support of the arts, consider following Inspire Washington.
*If you live in Seattle, find your councilmember's contact info here.
***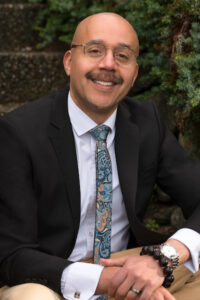 Michael Greer is the President & CEO of ArtsFund. As a former professional dancer and experienced executive, Michael's leadership experience spans both the for-profit and nonprofit sectors. He previously held roles as the executive director of Oregon Ballet Theatre and Portland Ballet in Maine. Michael started his arts career as a dancer with Ballet West in Salt Lake City, where he danced for six years. Michael then spent nearly a decade in leadership and executive roles in manufacturing, financial services, and commodities in India and Mainland China for several multinational firms. He is a Trustee of Downtown Seattle Association, Seattle Metropolitan Chamber of Commerce, and United Way of King County. Michael holds a B.A. in economics from Hampshire College, an M.Ed. from University of Illinois Urbana-Champaign, and an M.B.A. from The Wharton School.
***
Header image: Seattle Symphony, Beethoven Festival Workshop, photo by James Holt.