At ArtsFund, we believe the arts are an important tool to help us realize better outcomes for our region. Art brings us closer together and makes our communities stronger. This year, we're exploring a few of the ways that Arts Unite.
Arts Unite
ARTS UNITE PEOPLE. Dancing with a loved one in front of a live band. Walking through an installation surrounded by others immersed in the power of the work. Watching a child perform in their first play. There is nothing quite like experiencing art together. Even when we can't be physically close, shared artistic experiences provide cultural anchors that unite us across barriers.
ARTS UNITE COMMUNITY. Arts strengthen social bonds by providing forums to engage with ideas, process trauma, and share experiences. Arts can unite people of all political, social, and economic backgrounds. They strengthen our neighborhoods, build connections that promote social health and wellness, and help develop youth into engaged citizens.
ARTS UNITE CREATORS. Arts spur creativity and innovation. Artists collaborate on works that push the boundaries of what we know about ourselves, our society, and our culture, and advance our collective dialogue. Artistic experiences encourage creative problem-solving to help us envision a better world.
At ArtsFund, we harness the transformative power of arts and culture and channel it to build relationships, spark innovation, and strengthen community. With your support, we are working to ensure arts organizations are united in their work toward inclusivity, accessibility, and equity. We invite you to join us!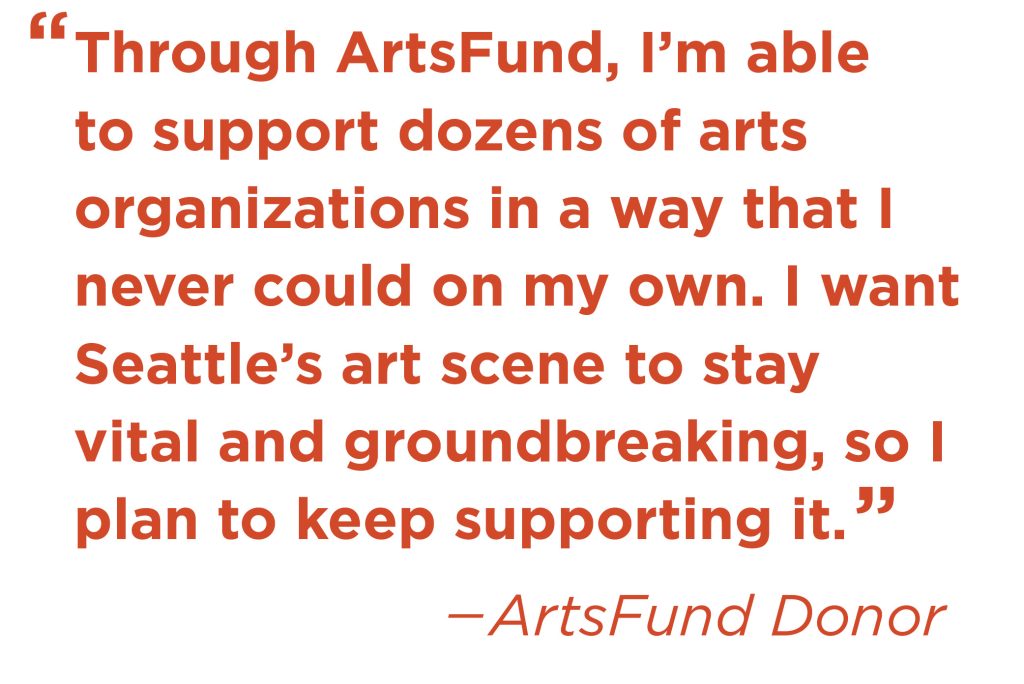 Why Support ArtsFund
A single gift to ArtsFund supports more than 130 organizations large & small and fosters a more diverse, equitable, and inclusive arts sector.
In 2021, we partnered with the Washington State Chamber of Commerce to distribute Nonprofit Community Recovery grants on top of the $2.2 million in general operating grants made possible by our generous donors. Since 1969, ArtsFund has awarded nearly $100 million to over 650 arts and cultural organizations.
When you make a gift to ArsFund, you…
• Become a part of a change-making collective that believes in the power of arts and culture;
• Support a spectrum of arts organizations from emerging to well-established institutions, representing a wide variety of disciplines and audiences;
• Can be assured you are supporting organizations with strong organizational health and a high capacity for social impact; and
• Maximize your gift by funding grants that are strategically paired with capacity building opportunities, leadership development programs, and advocacy for the sector.