On Monday, October 2, Seattle mayoral candidates Jenny Durkan and Cary Moon took the stage at the KEXP Gathering Space for a unique forum centered around arts and the environment. Sponsored by ArtsFund, Grist, KEXP, Seattle Music Commission, and Seattle Parks Foundation, with media partners KING 5 and Crosscut, over 350 Seattleites attended and thousands more watched via livestream to hear the candidates' views on these critical components of livability and what makes the region a great place to live.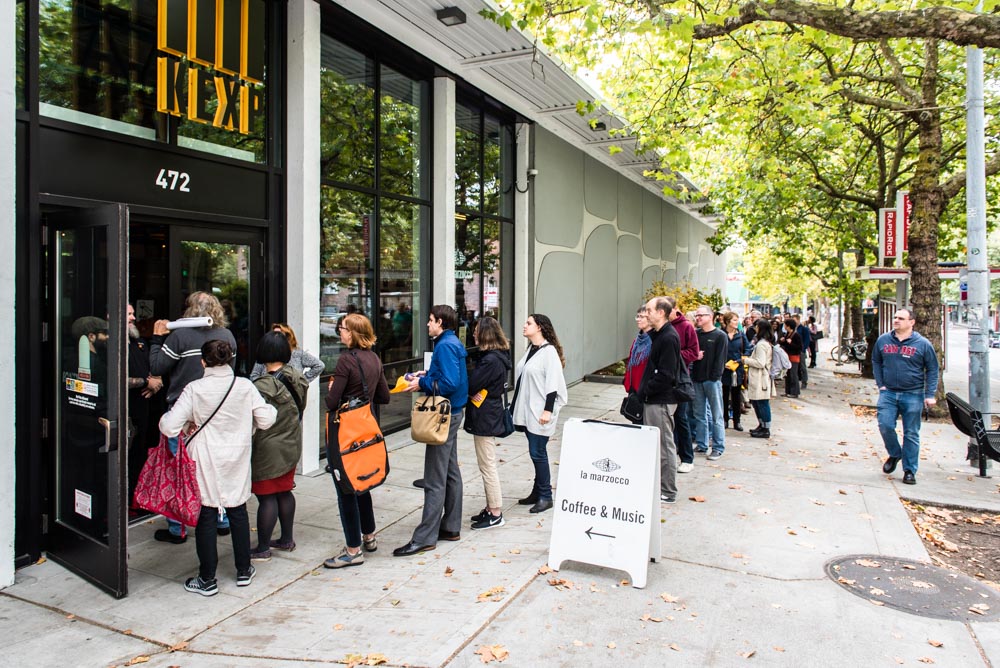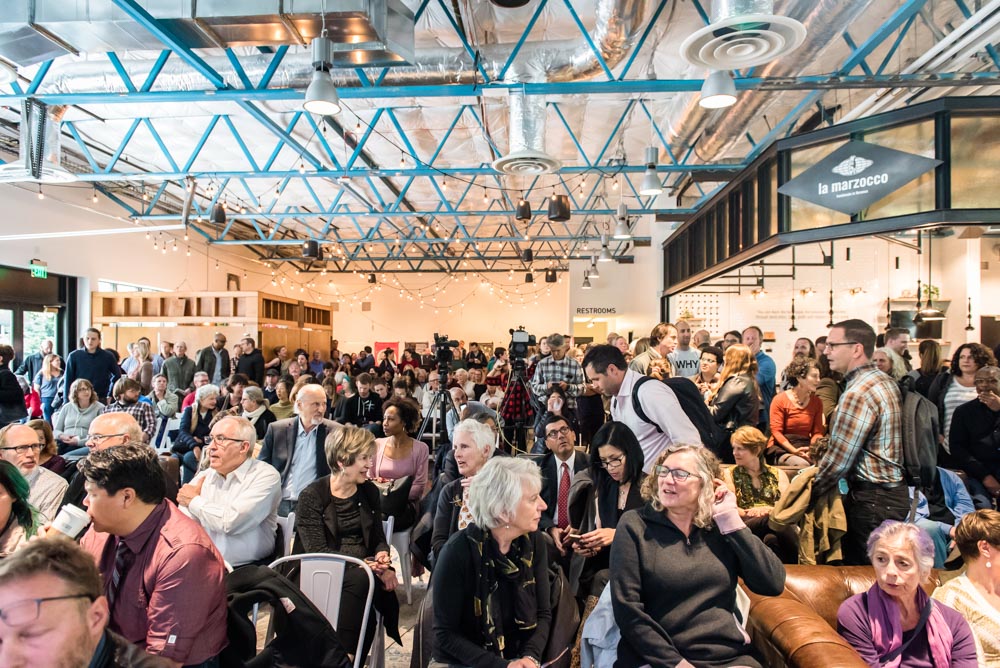 Tom Mara, Executive Director of KEXP, gave opening remarks before introducing moderators Florangela Davila, Managing Editor of Crosscut, and Brady Piñero Walkinshaw, CEO of Grist. Mara spoke to how the "city's arts ecosystem" is a key factor of Seattle's quality of life, as well as how the "region's spectacular natural beauty, our rich parks system, our stated commitments to sustainability and climate action are also key to defining who we are in Seattle."
Walkinshaw spoke briefly before introducing candidates Jenny Durkan and Cary Moon. "Seattle's cultural and natural assets are woven into the fabric that makes up our urban life," he said. "These are rich hallmarks of what makes living in Seattle great – and it's something the city's next mayor needs to think about, act on and invest in." And with that, the forum got underway.
The moderators opened by asking the candidates what they see as the biggest challenges facing the arts and environment in Seattle. Here, both candidates agreed that the city's fast growth and rising cost of living are the biggest threats to the arts and artists.
"We have grown so quickly that I think we are losing part of that soul that is Seattle and as we move forward and as we answer the questions today we have to talk about how affordability affects our city everywhere," Durkan said. "But it has a particular impact on artists and the arts."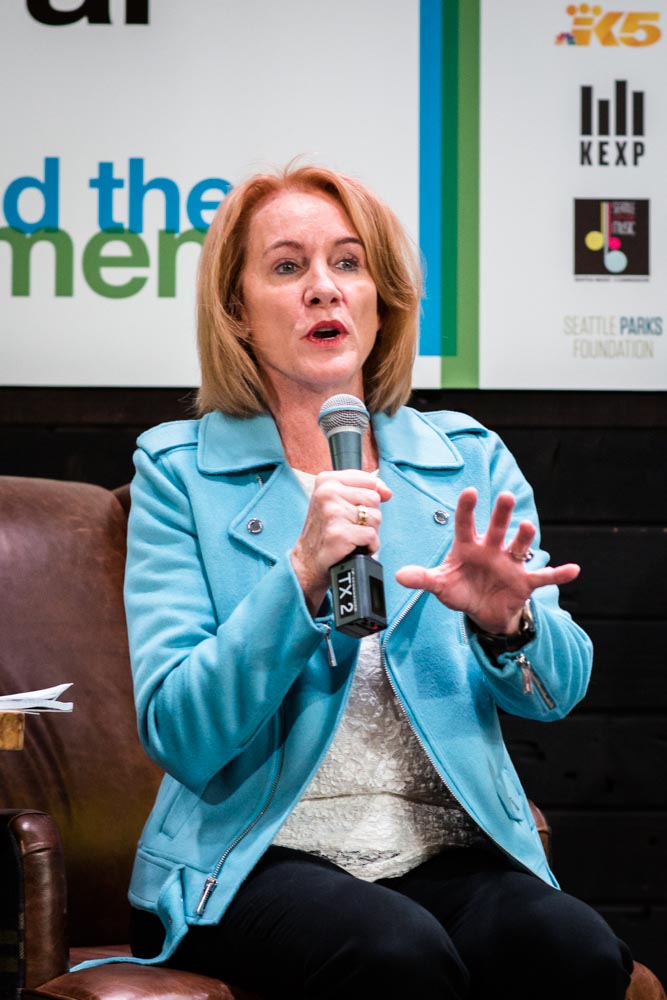 Seattle mayoral candidate Jenny Durkan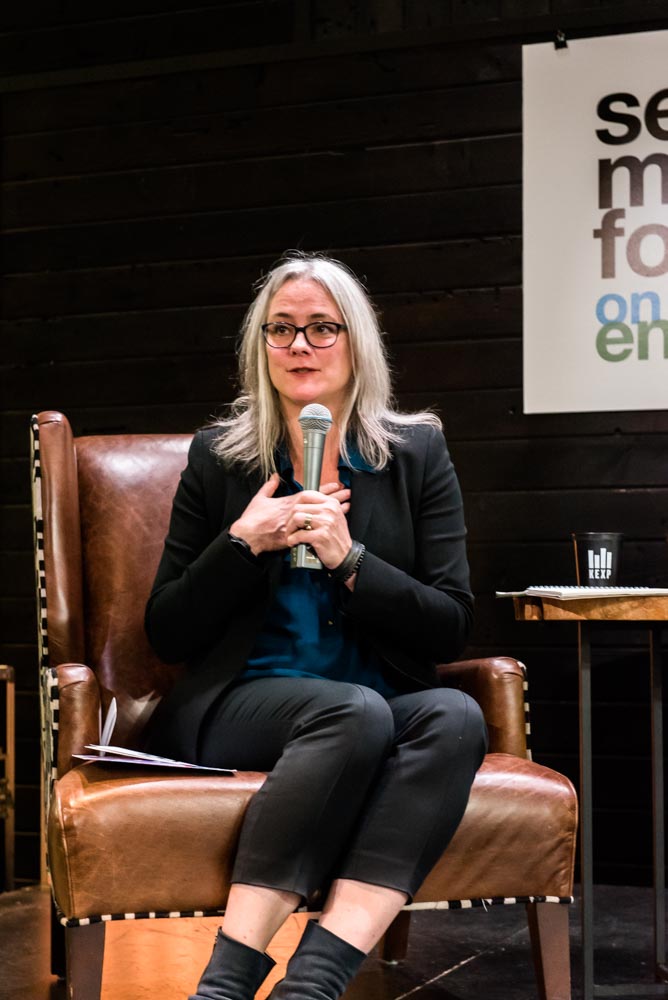 Seattle mayoral candidate Cary Moon
Speaking along similar lines, Moon responded, "We know looking at San Francisco that a city can become a shell of its former self it pushes out the creative class, if it pushes out low income people, if it pushes out people who make art. Because art is not entertainment for the wealthy to consume—art is how we express ourselves in our culture, how we identify and understand our society, how we resist when it's time to resist, and a city without art, a city without music, a city without creative culture is a dying city."
Throughout the hour-long forum, the candidates would often find themselves in agreement on the issues they will face—affordability, equity, homelessness, transportation—with differences arising in how to address them. The candidates also contrasted in their responses to the forum's "lighter" questions.
During a rapid-fire round, Moon and Durkan were asked to name the most recent live performance they saw (Moon: Shabazz Palaces; Durkan: The Eagles), where they would go with a free half hour (Moon: the Seattle Center; Durkan: Elliot Bay Book Company or Discovery Park), a recent cultural experience that blew their mind or changed their perspective (Moon: locally-produced opera Amelia; Durkan: the Women's March), and a theme song for their campaign (Moon: Formation by Beyonce; Durkan: The Fixer by Pearl Jam). During another quick-fire round, both candidates also said they supported the Access for All ballot initiative in that failed to pass in the August 2017 primary.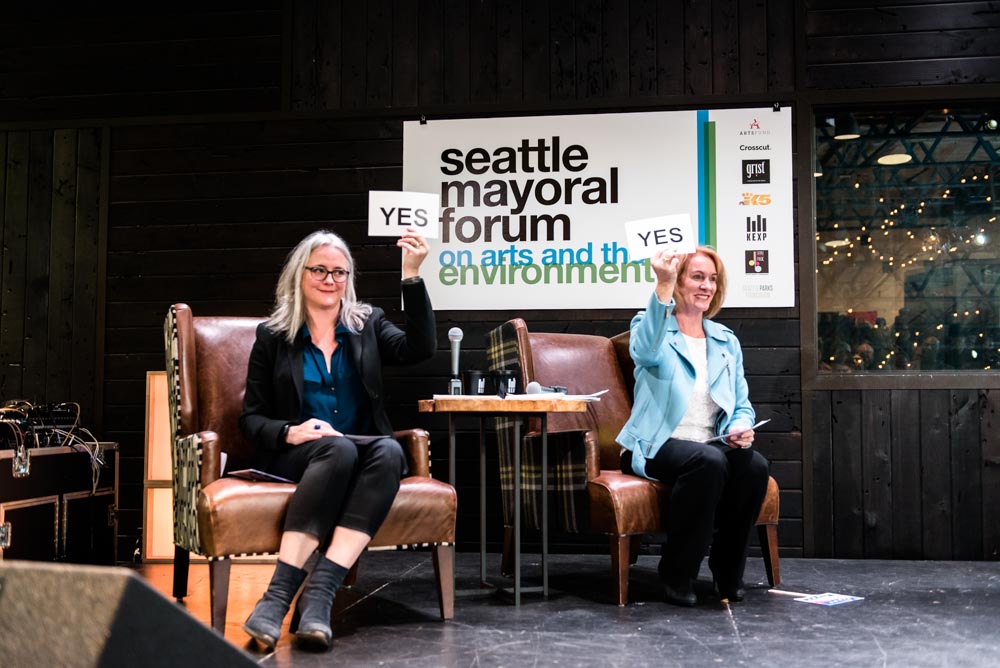 Both candidates said they supported Prop. 1 – "Access for All"
In response to the final question of what the candidates hope their legacy to be in four years should they win the election, the two candidates laid out their vision of Seattle in 2020 when they are on the campaign trail again.
Durkan outlined a future where, "We will look out in four years and say we are a more affordable city. People can live in any part of our city and artists are not just welcome but supported and thriving, because we have those artist lofts, that exhibition space. We have made Seattle affordable for everybody, and have focused on the arts."
Moon spoke to a future where power has been more broadly shared. "I think what I would really focus on," she said, "and what I would be most proud to have achieved after four years is re-balancing who has power in this city. Because I think that is the change from which many of these solutions can flow."
To watch the full recording and highlights from the forum, visit KING 5's page here.
A special thanks to our co-sponsors on the event: Crosscut, Grist, KING 5, KEXP, Seattle Music Commission, and Seattle Parks Foundation.
Thanks also to the arts and environmental community partners who helped makes this event possible:
350 Seattle, AIA Seattle, ARTiFACTS, Artist Coalition for Equitable Development, Artist Trust, Bike Works, Bullitt Center, Capitol Hill Housing, Cascade Bicycle Club, Compass Housing Alliance, Delridge Neighborhoods Development Association – DNDA, Duwamish Alive, Early Music Seattle, EarthCorps, ECOSS, El Centro de la Raza, Emerald Alliance, Feet First, Forterra NW, Friends of Waterfront Seattle, Futurewise, Gallery 110, Historic Seattle, InterIm Community Development Association, K-Love 4 Art & Historical Central Area & Culture District, Long Live the Kings, Mountains to Sound Greenway Trust, Musicians Association, Musicians Association of Seattle, Northwest Harvest, Orchestra Seattle, Outdoors for All Foundation, Path with Art, Plymouth Housing Group, Puget Soundkeeper Alliance, Rain City Rock Camp for Girls, Rainier Valley Corps, Seattle 2030 District, Seattle Architecture Foundation, Seattle Arts & Lectures, Seattle Audubon Society, Seattle Center Foundation, Seattle for Everyone, Seattle Green Spaces Coalition, Seattle Works, South Seattle Climate Action Network, Sustainable Seattle, Tilth Alliance, The Nature Conservancy in Washington, The Trust for Public Land, Seattle Uptown Alliance, UW Center for Creative Conservation, Ventures Nonprofit, Seattle Uptown Alliance, Washington Environmental Council, YouthCare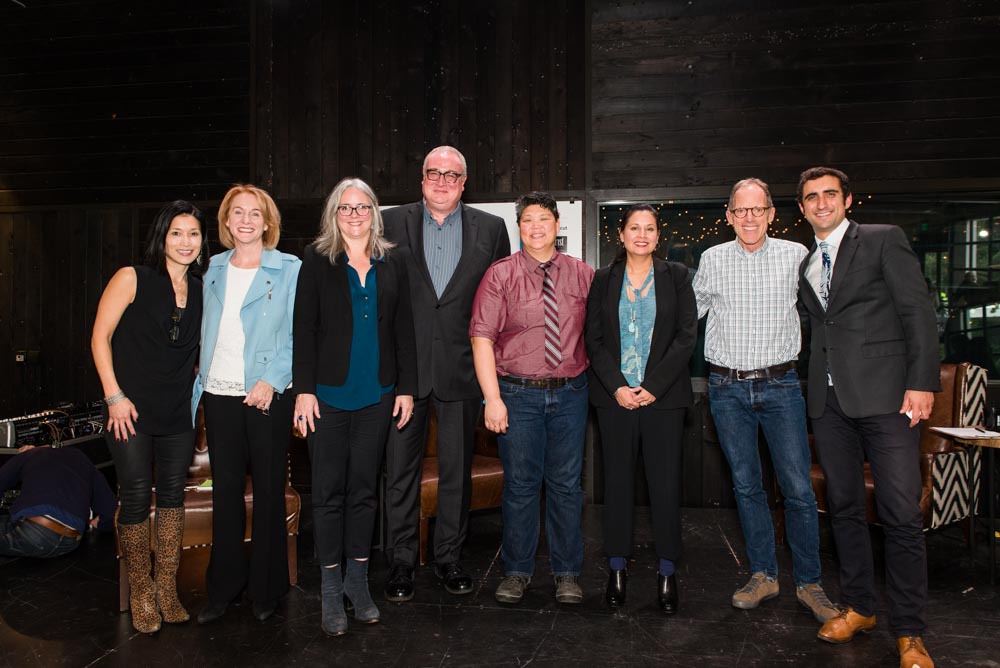 Left to Right: Mari Horita (ArtsFund), Jenny Durkan, Cary Moon, Tom Mara (KEXP), Reese Tanimura (Seattle Music Commission, Rain City Rock Camp for Girls), Florangela Davila (Crosscut), Thatcher Bailey (Seattle Parks Foundation), Brady Piñero Walkinshaw (Grist)