A Message from Board Chair Anthony R. Miles
August 21, 2019
ArtsFund friends, partners, and supporters,
I am pleased to announce that Sue Coliton has agreed to succeed Sandy McDade as ArtsFund's Interim CEO. For the past nine months, ArtsFund has been fortunate to be led by Sandy, who assumed the role when Mari Horita stepped down in January, and who ushered us through the successful completion of Campaign '19. Consistent with his plans and scheduling, Sandy will be leaving the role in September, and we are grateful to him for making his skills and expertise available to ArtsFund in this time of transition. While we had anticipated we'd be making a permanent announcement by this time, we are excited to have someone with Sue's experience and capabilities stepping into the role. She will be a wonderful leader for the organization during this pivotal year while the search committee continues working to identify the right person to spearhead ArtsFund's next epoch.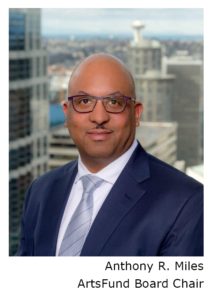 Sue is among the most respected executives active in the Seattle arts community, a reputation she built during 15 years leading the Paul G. Allen Family Foundation's philanthropic programs, and enhanced with years of consulting for many arts organizations, including ArtsFund. Sue is a senior consultant with Luma Consulting, where she offers strategic counsel to philanthropists, foundations, and non-profits to help them deepen their impact in the communities they serve. Prior to joining the Allen Foundation, Sue directed the west coast office of the New York-based Nonprofit Finance Fund, designed corporate giving programs in the arts for Gap, Inc., and worked as a visual arts specialist at the National Endowment for the Arts. She was a gubernatorial appointment on the Washington State Arts Commission, where she served as Chair, and served as a trustee of Philanthropy Northwest, the Henry Art Gallery and Earshot Jazz. She also served for many years on the ArtsFund Allocations Committee and was its co-chair multiple times. Sue's background, skills and experience, along with her familiarity with ArtsFund and the region's cultural sector, make her the ideal person to lead us into our 50th anniversary year and to steward the organization until a permanent President & CEO is appointed.
We expect Sue will officially step into the role on September 9, 2019, and ArtsFund will begin celebrating our 50th anniversary shortly thereafter. We thank you for your support and partnership and look forward to celebrating 50 years of impact with you throughout the upcoming year.

Anthony R. Miles
Chair, ArtsFund Board of Trustees