A Message from Board Chair Anthony R. Miles
January 18, 2019
ArtsFund friends, partners, and supporters,
As you know, this month we must reluctantly say farewell to Mari Horita, our dynamic President and CEO of the last seven years. Mari's last day with ArtsFund will be January 24, 2019. Today, I am pleased to announce that the Board of Trustees has appointed former Board Chair, Sandy D. McDade to serve as ArtsFund's Interim President and CEO effective January 25, 2019. Sandy will be serving as Interim CEO through the end of Campaign '19 and until a permanent President & CEO is appointed. Sandy has invested over 10 years as a board member with ArtsFund and is a seasoned manager. He is well-positioned to help steward the organization as we search for Mari's successor.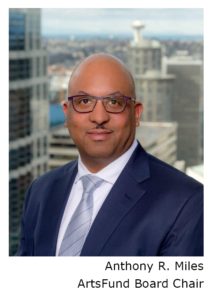 Mari has had a tremendous impact on ArtsFund for over 20 years. During her tenure as CEO, Mari led the charge to broaden ArtsFund's mission and establish a bold and inclusive vision for the role of the arts in this region. Her time as ArtsFund's CEO was marked by increased outreach and collaboration with others in the business community and arts sector, connections that provide fertile ground for ArtsFund's future development. Sandy has been on the ArtsFund Board of Trustees since 2007 and served as Board Chair 2014-2016. During his tenure, Sandy served on the Governance Committee, Development Committee, Executive Committee, and the 2016-2018 Strategic Planning Task Force.
Sandy retired from the Weyerhaeuser Company in 2014 after a 34-year career that culminated in his service as Senior Vice President and General Counsel beginning in 2006. In addition to his legal work at Weyerhaeuser, he served as President of Weyerhaeuser Canada from 2003-2005. He has been a Director of Pope Resources LP since 2016 and has served as a Director on several local Seattle corporate and nonprofit boards, including the Seattle Repertory Theatre. Sandy is a Seattle native and received his BA from Whitman College and his J.D., cum laude, from Seattle University.
On behalf of the Board of Trustees, I offer heartfelt appreciation for Mari's many contributions, and wish her well as she continues her focus on building a healthy community at NHL Seattle. We will surely benefit from her legacy and miss her leadership and passion as we pursue ArtsFund's continued evolution. I also express our gratitude to Sandy for making his skills and expertise available to ArtsFund in this time of transition. The Board of Trustees is in the process of forming a search committee to identify and engage a successor and we look forward to communicating with you later this year to welcome the new leader who will bring us into ArtsFund's 50th year and beyond.
Thank you for joining ArtsFund as we honor our past and look forward towards the future, and thank you for your ongoing support.

Anthony R. Miles
Chair, ArtsFund Board of Trustees