On May 8, 2018, nearly 1,000 supporters from the Puget Sound region's arts, cultural, public, and private sectors filled the Grand Ballroom of the Westin Seattle for ArtsFund's 30th Annual Celebration of the Arts Luncheon. Artists, presenters, and supporters came together in celebration of the power of the arts to strengthen cities and build community.
National Endowment for the Arts Chairman Jane Chu's keynote address, "The Arts in Our Lives," called on us to envision a world where the arts are deeply ingrained in every aspect of our lives. She went on to detail the ways in which Seattle is already realizing that vision:
"Seattle is a city where the arts are already integrated into all manner of community life, where they are activating the city, and providing residents and visitors with a richer, better, and brighter place to live in and visit. Where the arts give students new opportunities to thrive. Where they are revitalizing neighborhoods. Where they are stimulating the economy. Where they are contributing to a healthy, dynamic environment for all people. And where they are helping bridge the differences among residents, so that strangers feel more like neighbors."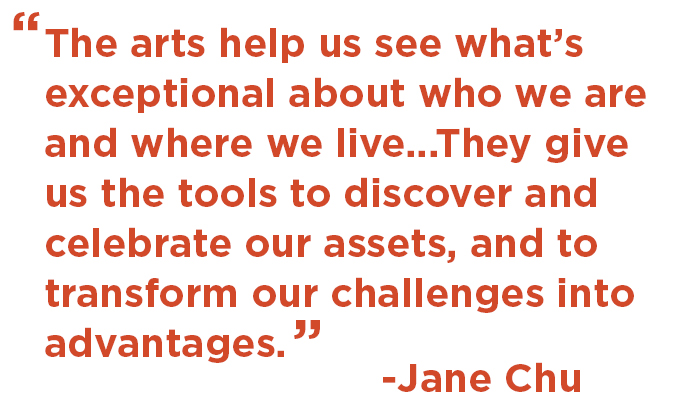 Chairman Chu's keynote was introduced by Dow Constantine, King County Executive. Constantine localized his remarks by stating, "King County has long been a center for the arts. Both our elected officials and business leaders know that a vibrant arts community is an enormous boon to our regional economy."
Author Jamie Ford was honored with the Outstanding Contribution to the Arts Award for his literary works. His remarks illuminated the true work of artists in our society: "I don't think of myself of a storyteller or a writer as someone who is in the compassion creation business."
The award was presented by Louie Gong, Artist, Activist, and Founder, Eighth Generation. In celebrating Ford, Gong highlighted, "While Jamie brings Seattle's history to life in his novels, he also plays a living, breathing role in Seattle's artistic and literary communities today."

ArtsFund President & CEO Mari Horita mused on the power of the arts to connect people through the creation of emotional bonds and social networks, saying, "the arts are one of the forces that can help transcend conventional differences and renew positive social behaviors and connections." Mari added, "We understand that the arts are not the only thing that makes our region the extraordinary place that it is, but our region would not be the extraordinary place that it is without the arts."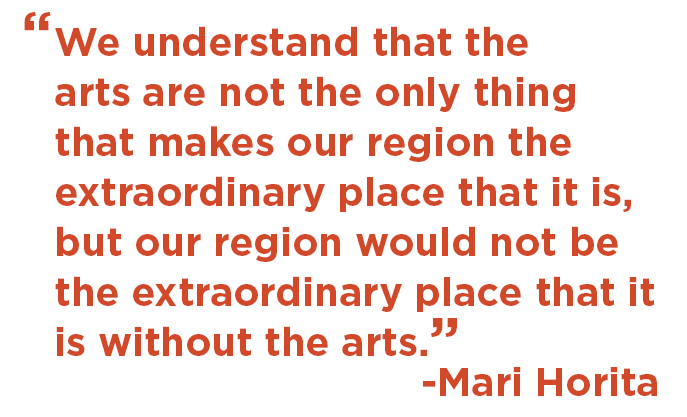 In further celebration of arts in community, the event showcased dynamic performances by the Seattle Men's Chorus, Trio Guadalevín, and 16 year old violin soloist Shintaro Taneda, a member of Seattle Youth Symphony Orchestra. Clarence Acox, Educator, Bandleader, and Musician, also took to the stage to make the fundraising "ask".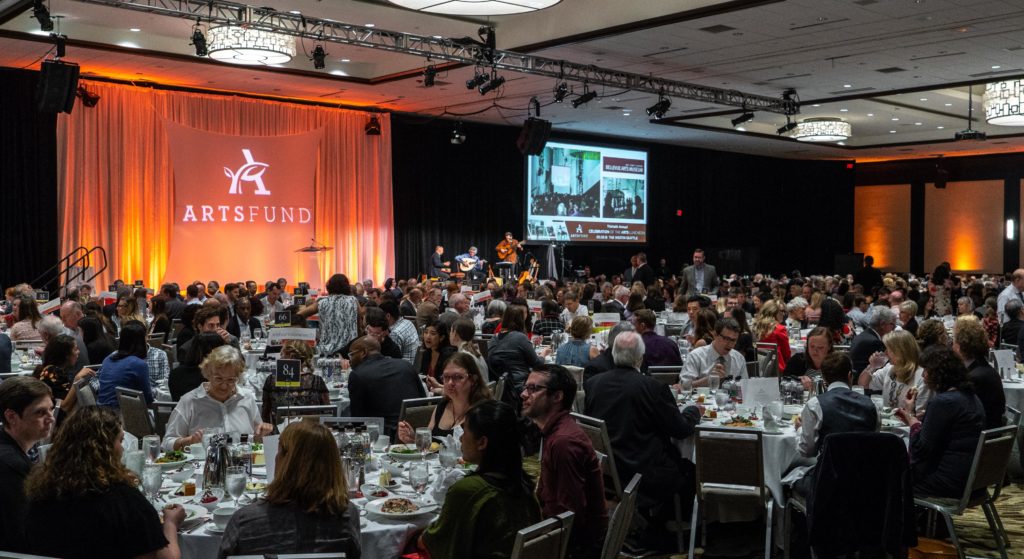 Thanks to all who collaborated to make this a memorable event, and special thanks to our sponsors who made it all possible!