Our Team is Evolving
With the creation of our new grantmaking department, made possible by a grant from M.J. Murdock Charitable Trust, generous matching gifts from ArtsFund Trustees Carl Behnke and Mary Pigott, and long-time supporter Ellen Ferguson, and the addition of some new and incredible talent, we are multiplying our impact and poised to provide increasingly more significant resources and support to our community. In April, we welcomed Tom Vasquez as the new Vice President of Grantmaking. In May, we congratulated Ellen Milligan, our Program Manager & Board Liaison of four years, on her new role as Senior Grants Manager.
Along the way, we bid a fond farewell to former Communications and Digital Marketing Manager Rachel Porter, former Annual Giving Manager Mike Myers, and last month, two executive leaders— Sarah Friedman (VP of Development) and Sarah Sidman (VP of Strategic Initiatives & Communications)— stepped down from their roles.
Sarah Friedman joined ArtsFund in September 2019 and led ArtsFund in three successful annual fundraising campaigns spanning periods of intense transition, including CEO leadership change and throughout the pandemic. Fearlessly navigating fundraising efforts during COVID times, she ushered in ArtsFund's highest-grossing contributed revenue year of all time. We are immensely grateful for Sarah's tremendous work and valuable contributions over the last few years, and she has made a lasting impact at ArtsFund. Sarah and her family are relocating back to the Philadelphia area, where Sarah's career began. She will remain with ArtsFund part-time throughout the summer. We are grateful for the opportunity to continue to collaborate and connect with her during the coming months.
Sarah Sidman joined ArtsFund in April 2013. During her 9+ year tenure, she has spearheaded several monumental projects and led countless new programs and partnerships; from launching our convenings series to the formation of the Cultural Partners Network to several special brand-building initiatives and our 50th anniversary. In addition to developing many of ArtsFund's targeted grantmaking programs including power2give, the Multicultural Arts Project, and the Nonprofit Community Recovery grants, she and her teams also designed and led sector research including our Economic, Social, and COVID Cultural Impact Studies. We will miss Sarah's warmth, storytelling, and incredible ability to see both the big picture and the tiniest detail, but she leaves ArtsFund in a strong position with an excellent programs and communications team in place: Katy Corella (Programs & Advocacy Manager) and Steffi Morrison (Programs Coordinator).
While the search is underway to fill the enormously big shoes of both Sarah Friedman and Sarah Sidman, it is with tremendous pleasure that we welcome Kaitlin Hurley as our new Annual Giving Manager.
Kaitlin Hurley relocated to Seattle from Boston to join our team in June.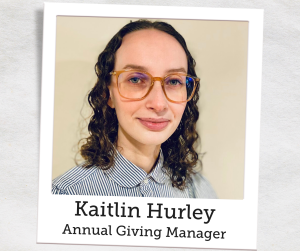 Previously, she was the Advancement Services Specialist at the New England Historic Genealogical Society (NEHGS), where she handled all portfolio management and prospect research. She recently completed her Master's in Arts Administration at Boston University where she was able to interact with major leaders in the nonprofit arts community. As an undergraduate, she attended the University of Massachusetts Amherst and was a double major in Art History and History. She spends her free time doting on her cat (Dame Angela Lansbury), reading, and trying to attend as many arts and culture events as humanly possible. We are so lucky to have her join the ArtsFund community.